Home
Resources

Case Studies

---
Customized Analysis Software For Muzzle Brake Of A Gun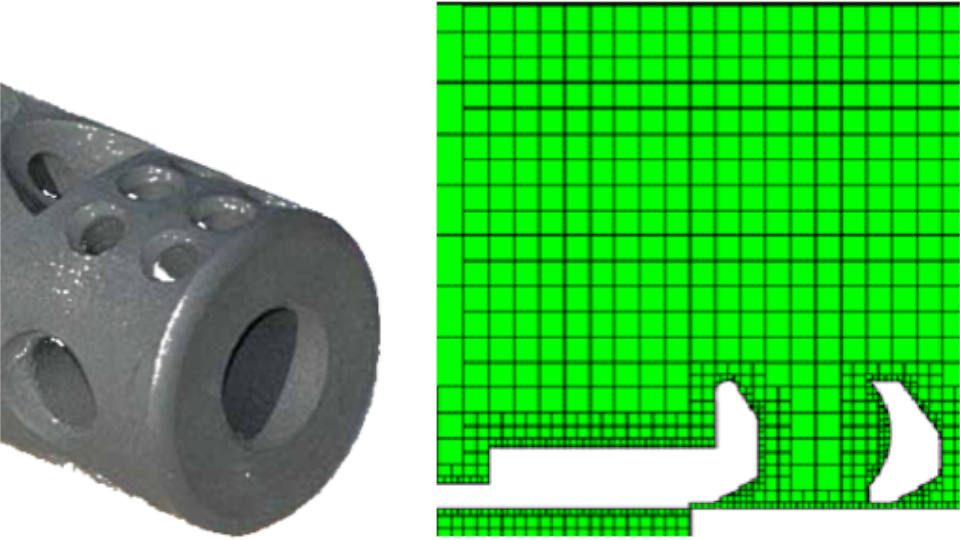 Our customer is a premier Defence organization involved in the development of state-of-art hand-held and artillery guns. They are seeking to improve the efficiency of muzzle brake being designed by them. A muzzle brake is a device fitted to the muzzle of firearms which helps countering recoil of the weapon. Arriving at an optimal design by manufacturing prototypes is impractical. Numerical simulations serve as a robust and dependable alternative.

Zeus Numerix developed customized software, which used an unsteady compressible solver, on an Octree based grid, with Adaptive

Mesh Refinement (AMR) to simulate the motion of the projectile. Dynamics and flow physics of the projectile starting from the all burn point (inside the barrel), to the time where it reaches the end of the barrel is simulated. Parameters like the projectile's muzzle velocity and recoil energy were predicted within 7percentage of the experimental values. Noise levels at pre-specified locations were also predicted well via simulations.

The customer was provided with the customized software. It is a GUI driven software which a designer can use to produce geometry for muzzle-brakes, solve compressible flow (with AMR) to generate recoil forces and noise levels and post-process the solution data. The software has now become an integrated part of the design process of a hand-held gun and an artillery weapon manufactured by the customer.